FREQUENTLY ASKED QUESTIONS
ABOUT FETISH CALL PHONE SEX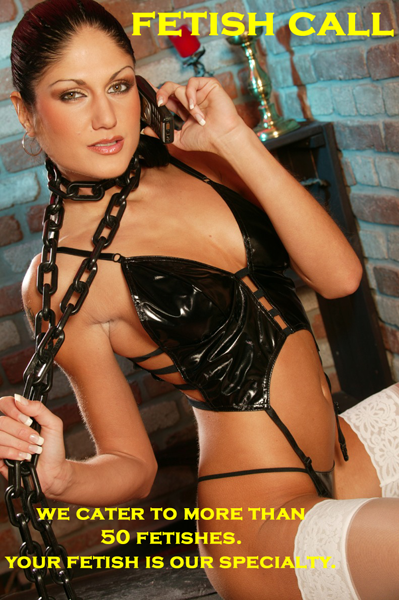 How does it work?
It's simple. You just call us and tell the receptionist you want a fetish call. After we take care of the credit card details, give us a minutes, and you'll be connected to a woman who gets into your fetish. And we pick up the cost of the phone call. (Don't worry, we never give out your phone number to anyone!)
How do I know you'll have someone who can handle my fetish?
We've been doing this a long time, and we've built up a large group of women experienced in every fetish you can imagine. That's how we've stayed in business for years - because we can handle whatever fetish you may have. Want to see a sample list? Just click here.
I've got a "special interest." How do I know you have someone who understands it?
Ask us. If we don't have anyone for you, we'll tell you. But we specialize in special interest fetishes - you'd probably be surprised to know how many other people share your special interest, and have called us in the past!
What if I just want to talk to someone about my fetish, and don't want actual phone sex?
That's fine - we don't hire dumb girls. They're not only good at phone sex - they're all intelligent, and fun to talk to!
Isn't phone sex expensive?
Sure, compared to looking around for crappy free pictures - if you can even find free pictures that get you off, that is. But finding a woman who actually understands your fetish, and wants to play? That's almost priceless - and well worth a few bucks, isn't it? And think about it - how much does it cost to go to a movie and out to dinner? Phone sex costs a whole lot less than that - and afterward you can just hang up and go to bed!
How can I pay?
The easiest way is with a major credit card - we take Visa, MasterCard, American Express and Discover.
How do I know you'll keep my information private?
There's a reason we've been able to stay in business for years - our clients trust us. We never release any information to anyone. Ever.
Call now: TOLL FREE:
855-3-FETISH
(855-333-8474)
Must be 18+ to call.

Role-playing phone fantasies are for entertainment purposes only.
Copyright FetishCall, 2011. All rights reserved. Email us.